Train Transfers To and From Fiumicino Airport



Rome Fiumicino International Airport Train Transfers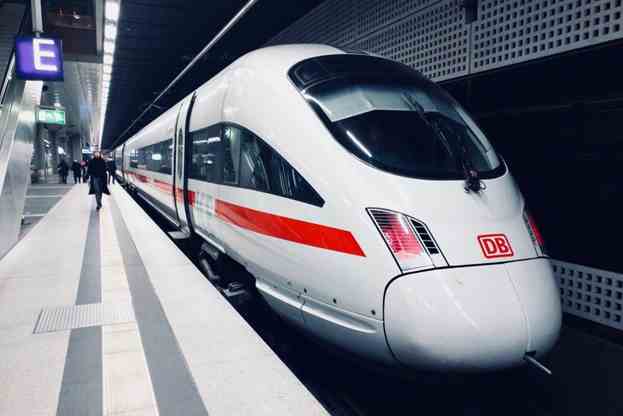 Rome Fiumicino airport boasts its own railway station which can easily be accessed via the Departure and Arrivals terminals. There are frequent Trenitalia connections thanks to Leonardo Express and Regional FL1 trains.
Leonardo Express is a non-stop service that transfers airport guests to and from Rome Termini train station. The Leonardo Express leaves Rome Fiumicino Airport every 15 minutes, and getting to Rome Termini takes just 32 minutes.
With Regional FL1 trains passengers can reach various train stations in Rome, including Rome Tiburtina station, which takes ca 48 minutes to arrive. Regional FL1 trains leave every 15 minutes on weekdays and every 30 minutes on weekends and public holidays.
From the Termini train station air passengers can board high speed Frecciarossa trains to cities such as Naples, Bologna, Verona, Florence and Venice.
A trip to Bologna from Roma Fiumicino Airport takes around 3.5 hours, trains leave every half hour and both standard and first class tickets are available. It's possible to book cheaper tickets in advance that start at around 37.00 euros, but the regular fare to Bologna on a standard ticket is ca. 70.00 euros, and 95.00 euros going first class.
Going to Florence can take more than 5 hours, depending on the type of train service chosen. The regular fare going standard class on a Frecciarossa train is ca. 58.00 euros, and 79.00 euros going first class (prices as at 2019). Cheaper fares are available when you book well in advance, costing around 30.00 euros on slower services where passengers need to change.
There are also frequent services linking Rome Fiumicino Airport to Milan, a journey that takes around 7.5 hours to complete. Tickets costs around 70.00 euros, if you book well in advance via the Trenitalia.com site. The regular standard fare is around 110.00 euros, going first class around 146.00 euros.
Frequent trains go to Venice, a trip taking around 4.5 hours and costing around 70.00 euros on average, if you prebook online. Regular standard fares cost 95.00 euros and first class tickets cost 127.00 euros.
A train journey from Fiumicino Airport to Verona Porta Nuova station via Rome Termini train station means taking first the Leonardo Express, then changing to the Frecciarossa train and then a short trip on a regional train. The cost for such a trip is around 140.00 euros return, when prebooking online with Trenitalia.com. The whole trip takes around 5 hours one-way, ideal for a long weekend away from Rome.
A bit closer to Rome, Naples boasts a wealth of tourist attractions. The Leonardo Express goes directly to Rome Termini, where passengers can change to half-hourly Frecciarossa services to Naples. The trip takes ca. 2 hours one-way and costs around 120.00 euros return per person.
If you wish to see Rome first, then travel onwards by train to Perugia and the city's airport, there are also frequent connections between Rome Termini and Perugia. The trip takes ca 3 hours and 20 minutes, costing just 26.00 euros one-way, when booking online. There's at least one train an hour going to Perugia.