FIUMICINO AIRPORT (FCO) INFORMATION
Origin
Airline
Flight no.
Scheduled
Est./Actual
Status
No flight arrivals were found at Fiumicino Airport.
Destination
Airline
Flight no.
Scheduled
Est./Actual
Status
No flight departures were found at Fiumicino Airport.
Car Hire at Fiumicino Airport
UNBEATABLE VALUE CAR RENTAL
Free Amendments | Free Cancellations | No Card Fees




Fiumicino Airport - All Information on Fiumicino Airport (FCO) Fiumicino Airport
Via dell'Aeroporto di Fiumicino 320, P.O. Box 68, I-00050 Fiumicino, Italy
phone 0039 06 65951
phone+39 06 65953541 (Lost + Found)
emailadrforclient@adr.it
call_end+39(0)665 955 707 (fax)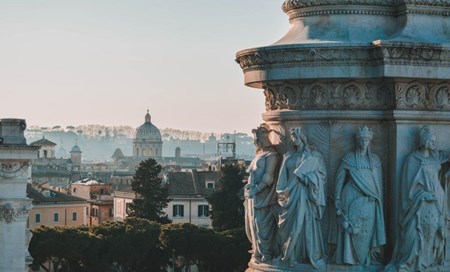 Also known as Rome Leonardo da Vinci Airport, Rome Fiumicino Airport is Italy's busiest airport with 42,995,119 passengers handled in 2018 alone. Of these, 11,503,128 were domestic travelers, while 31,491,991 passengers originated from abroad. Total aircraft movements for the year amounted to 307,736.
Arrivals, Departures and Airlines at Fiumicino Airport
Airport Terminal Services
Rome Fiumicino Airport offers passengers free WiFi without time limits throughout all public areas. There are also new free luggage trolley services to help passengers, new seating and "sleeperettes" for greater comfort, and three airport lounges for travelers who have time to spare before their departure. The flight-info screens in all three terminals are also new, and all information points in the terminals are equipped with photocopier and fax machines. ADR, the airport operator, has also issued a new user-friendly interface and menu for the free ADR App that allows passengers to download information. There are more than 1,000 WiFi Access Points installed across the three terminals, the Cargo area and in the parking areas of the planes.
Families travelling in and out of Rome Fiumicino Airport will find a wide range of useful and family-friendly services and amenities in the terminals. There are play areas, family toilets, restaurants with children's menus and pink parking, designed to make life easier for female travelers, especially new and expectant mothers. The parking lots offer 28 extra large parking spaces for new mothers, which allow for easier loading and unloading of strollers. These spaces are protected by 24-hour CCTV connected to the Operations Center, and there are also SOS call systems in place. "Pink" parking zones are clearly marked by pink lines on the pavement.
Banks, ATM's and currency exchanges can be found in all three terminals too. A post office, open from 8.30 am to 3.30 pm, is located at Terminal 1 in the Arrivals area.
In Terminal 3 passengers will find the Left Luggage and Luggage Storage area (International Arrivals). This facility is accessible from 6.30 am to 11.30 pm every day. Travelers can leave their luggage for six euros per suitcase for up to 24-hour periods. Anyone requiring a porter should go to the ADR information desks or the interactive multimedia stations in the terminals to book the porter service for a fee.
Getting to and from Rome Fiumicino Airport
Car rental desks are located in the Office Tower 2, accessible via the pedestrian tunnels which link the Terminals to the Multilevel Parking facilities. The rental stations are sign-posted in the Arrivals area of the terminal. Car hire companies at Rome Fiumicino Airport include Alamo, Avis, Autovia, Budget, Dollar, Enterprise, Europcar, Firefly, Goldcar, Hertz, Locauto, Maggiore, Sixt and Win Rent, among others.
Inside Rome Fiumicino Airport is a train station that allows passengers to get easily from the Arrivals and Departure areas to where they want to go via Trenitalia trains. The Leonardo Express is a non-stop service reserved for airport passengers travelling between Rome Termini train station and the airport. This service leaves every 15 minutes, taking 32 minutes to arrive at its destination.
Regional FL1 trains leave the airport for other stations in Rome, including Rome Tiburtina, leaving every 15 minutes during the week, and every 30 minutes on weekends and on public holidays.
Taxis arrive and leave from ranks outside Terminal 1 and Terminal 3, just in front of the Arrivals areas. All authorised taxis are white, and carry a "TAXI" sign on their roof. Rome's municipal emblem is displayed on the front doors and official taxis carry also licence numbers on their doors, on the rear and inside the taxi. It takes ca 40 minutes to reach Rome Termini train station, costing around 42.00 to 45.00 euros for two passengers.
Travelers can find taxis on the Arrivals level on the main road facing Terminals 1 and 3, and on the ancillary road that faces the train station.
Hotels near Fiumicino Airport
There are a number of hotels to suit all budgets and requirements at or near Fiumicino Airport.
Additional Services and Amenities at Fiumicino Airport
At Fiumicino Airport you will find the usual array of bars and restaurants, airport lounges and shops.
Things to do in Rome Fiumicino
There are a number of activities to suit all ages and interests in the region - see a selection of tourist activities in Rome Fiumicino, Italy.
Services at Fiumicino Airport
Useful Information about Fiumicino Airport